and welcome to our website. This site was originally set up to tell you about the charity fund-raising classic car trip that we were planning to undertake to the USA, in September 2005. We can now report that the trip was successfully completed and that we are now back in the UK. We had a fantastic time on the trip, a summary of which can be viewed by clicking on the 'STOP PRESS!!' button to the left of this page.

The purpose of the trip, (besides having a good time !), was to raise much needed funds for the Motor Neurone Disease Association, a UK based charity that supports people with Motor Neurone Disease (MND) - also known as Amyotrophic Lateral Sclerosis (ALS) in the USA. Initial calculations indicate that we have raised over £5000 for the MND Association by undertaking the trip. We would like to thank all those people and organisations who made donations. MND is a degenerative neurological disease for which there is currently no known cure. The MND Association also provides assistance and support to families and carers of MND sufferers, and also funds research into a potential cure for the disease.
The trip took us from Baltimore to Los Angeles, via New York, Niagara Falls, Detroit, Indianapolis, St Louis, The Grand Canyon, Las Vegas and San Francisco - a distance that turned out to be over 5600 miles. The journey was undertaken in our two Mk 1 Escorts (see pictures at top of page). Below is a map showing the route that taken. For more details of the route that was taken click on the 'THE ITINERY' link to the left.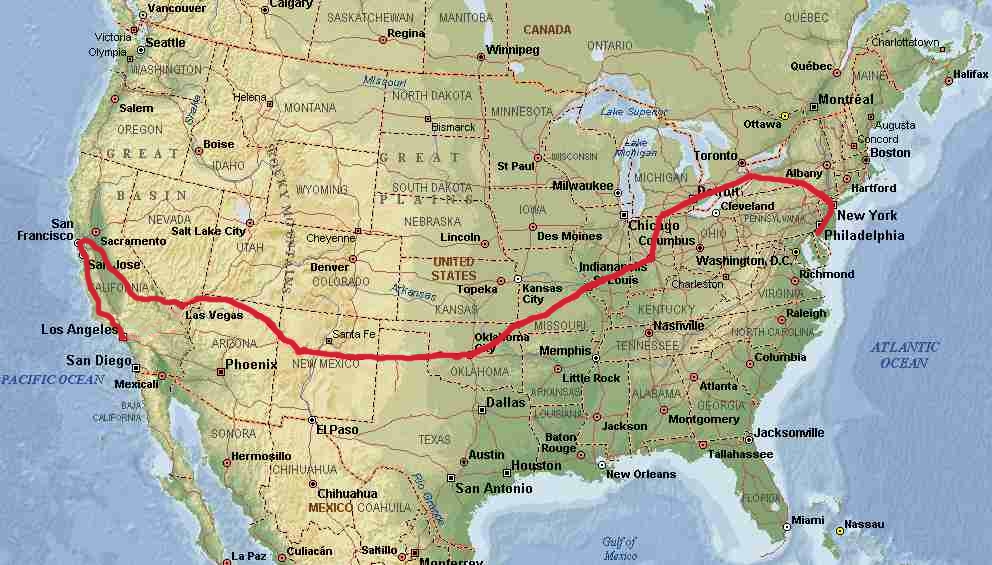 The idea for the trip came about following a previous 5000 mile round trip from the UK to Malta and back, that we undertook in the cars in May 2003. On that occasion, the trip was carried out to raise money for the Multiple Sclerosis Trust (we raised about £ 3400), a UK based charity that supports people suffering from MS and their carers. During the trip we appeared on national Malta TV, to tell them about the trip and to inform them of the fund raising element of the adventure. In addition, following the trip, numerous magazine articles on the trip were also published (i.e. Classic Ford Magazine, Road Rage magazine).
We had such a great time doing that trip, that it was agreed that we should do another, but to a different destination. We considered another trip around Europe, but during the discussions about potential destinations, some fool suggested that driving across the States would be a pretty good challenge. Although the idea appeared pretty far fetched, the seeds had been sown, and over the following few months it was agreed that it just had to be done.
If you would like to send us a message, please contact us at :